Turbo Cure 1: Curing Chamber for pigment printing
TURBO CURE 1
100 Meters / Hr. (Reactive, Pigment, Disperse or Acid inks)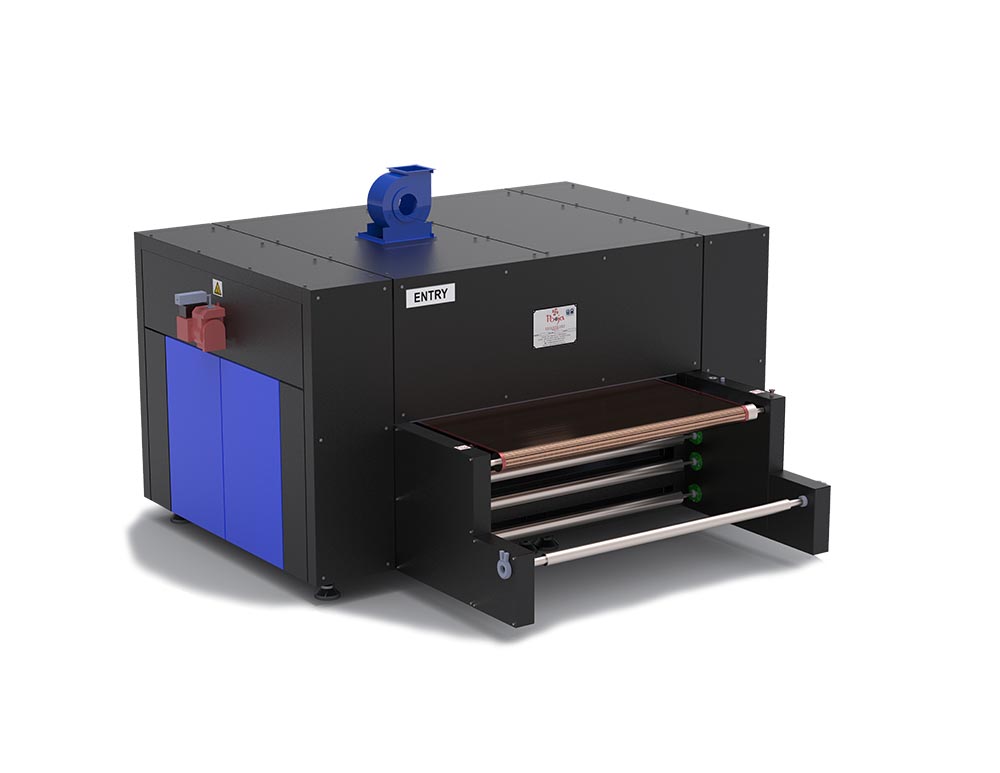 Discover the forefront of pigment printing technology with our revolutionary TURBO CURE 1 curing chamber. Meticulously engineered for unparalleled results, this chamber is tailored to ensure the optimal curing of pigment prints.
Seamless Curing Advancement: Designed with your needs in mind, the TURBO CURE 1 streamline the pigment printing curing process, offering unmatched efficiency and quality.
Precision Conveyor System: Experience the ease of precise curing with our advanced conveyor system. Each pigment print is treated with utmost accuracy to achieve the desired results.
Single and Dual Curing Options: Choose between Single and Dual curing configurations to match your specific requirements, providing flexibility in your pigment printing workflow.
Single: Gas, Oil, or Electric
Dual: Electric + Gas or + Electric + Oil
Enhanced Productivity: The TURBO CURE 1 achieves a remarkable curing rate, delivering efficient curing without compromising on print quality.
Proven Performance: Trusted and endorsed by the industry, the TURBO CURE 1 has been successfully integrated into numerous pigment printing setups, enhancing the curing process across a range of applications.
Automation Excellence: Opt for the optional PLC-based TOUCH SCREEN system to experience seamless automation, allowing you to control and monitor the curing process with precision.
Integrated Air Shaft and Conveyor Centering System: Experience enhanced operational convenience with the built-in air shafts and auto conveyor centering system, ensuring consistent and smooth pigment print curing.
Key Features:
Precision Temperature Control: Cure your pigment prints flawlessly at temperatures ranging from 165 to 180 degrees Celsius, ensuring optimal results without compromising fabric integrity.
Automatic 5-Pass Driven System: Our innovative driven system automates the curing process across five passes, enhancing efficiency and consistency.
Adjustable Dwell Time: Tailor the curing process to your specifications with an adjustable dwell time, ranging from 3 to 6 minutes, providing control over the curing intensity.
Elevate your pigment printing capabilities to new heights with the TURBO CURE 1 – where precision, efficiency, and quality converge.