TURBO 1 : Dryer for Digital Printing: 200 Meters/ Hr.
TURBO 1 Model: 200 Meters / Hr.
Ideal for 16 Head Machines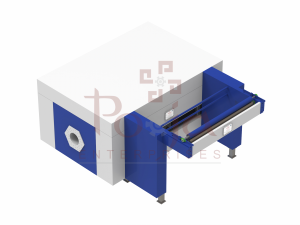 Pooja Enterprises is the leading manufacturer of DRYERS FOR TEXTILE DIGITAL PRINTING (Reactive, Disperse, Acid & Pigment Printing). We have installed more than 300 Dryers for DIGITAL PRINTING and more than 500 dryers for Flat Bed and Rotary Printing, due to this wide experience WE HAVE DESIGNED A PERFECT MACHINE, that is easy to use and has a low running cost.
Available in single and 3 pass.

Compatible with your printing machine's width.

Sampling can be done using a conveyor.

Heating options: Single & Dual. (Gas, Oil, Electric & Steam)

Various options are available for delivery: Automatic Winder, Plaiter &  Batching + Plaiter

Production 200 Meters / Hr.

Installed more than 300 Dryers across India on all printing machines. (Italian, Chinese, Indian)

Fully Automatic PLC-based TOUCH SCREEN system (Optional)
Click here to watch the video of TURBO 1 Model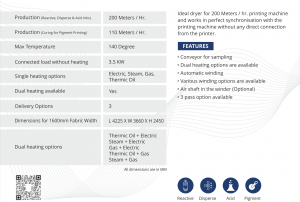 Please note production will be different for the CURING MACHINE.