TURBO 2 : Dryer for Digital Printing: 400 Meters/ Hr.
TURBO 2 Model: 300 Meters / Hr.

Pooja Enterprises is the leading manufacturer of DRYERS FOR TEXTILE DIGITAL PRINTING (Reactive, Disperse, Acid & Pigment). We have installed more than 300 Dryers for DIGITAL PRINTING and more than 500 dryers for Flat Bed and Rotary Printing, due to this wide experience WE HAVE DESIGNED A PERFECT MACHINE, that is easy to use and has low running cost.
Available in single or multi-pass pending on the fabric quality and production required.

Compatible with your printing machine's width.

Sampling can be done using a conveyor.

Heating options: Single & Dual. (Gas, Oil, Electric & Steam)

Various options available for delivery: Automatic Winder, Plaiter & Batching + Plaiter

Production 300 Meters / Hr.

Installed more than 300 Dryers across India on all printing machines. (Italian, Chinese, Indian)

Fully Automatic PLC based TOUCH SCREEN system (Optional)
(The Video above is for TURBO 1 Model, the difference between TURBO 1 & TURBO 2 is the length of the machine, heating source and some other necessary equipment)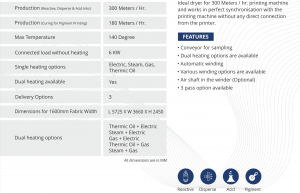 Please note production will be different for the CURING MACHINE.