TURBO MINI 2 : Dryer for Digital Printing: 350 Meters/ Hr.
TURBO MINI 2 Model: 350 Meters / Hr.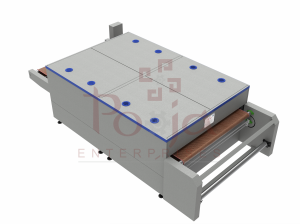 Whats new about TURBO MINI SERIES?
COMPACT, EFFICIENT, ECONOMICAL AND YET NO COMPROMISE IN QUALITY.
TURBO MINI Series is a newly designed dryer series for digital printing that has been designed after a lot of research and development. The new TURBO MINI design is much COMPACT & EFFICIENT compared to TURBO series and it consumes much lesser energy compared to our TURBO dryers or any other dryer available in the market. It's the latest innovation in the dryer segment for digital printing. 
Pooja Enterprises is the leading manufacturer of DRYERS FOR TEXTILE DIGITAL PRINTING (Reactive Printing, Disperse Printing & Acid Printing). We have installed more than 300 Dryers for DIGITAL PRINTING and more than 500 dryers for Flat Bed and Rotary Printing, due to this wide experience WE HAVE DESIGNED A PERFECT MACHINE, that is easy to use and has low running cost.
Available in single pass.

Compatible with your printing machine's width.

Sampling can be done using a conveyor.

Heating options: Single & Dual. (Gas, Oil, Electric & Steam)

Various options are available for delivery: Automatic Winder, Plaiter & Batching + Plaiter

Production 350 Meters / Hr.

Installed more than 300 Dryers across India on all printing machines. (Italian, Chinese, Indian)

Fully Automatic PLC-based TOUCH SCREEN system (Optional)
Click here to watch the video of TURBO MINI 1.5 Model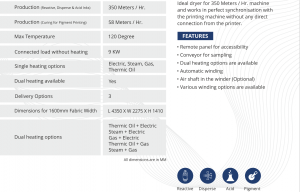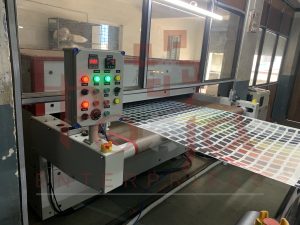 A newly designed remote panel helps the operator to operate the printing machine and dryer at the same time. Touch screen panel is also available at an additional cost.